Some thoughts for small rocks:
Some thoughts for small rocks:
I've had loads of porcelain epiphanies lately but when its actually come to penning them down they've bunged themselves up and i've left them to flush away with all the other crap memes i have throughout the day.
Moving back home has been really interesting due to the reacquaintance of my current form with the me from 7 years ago. A 17 year old me who'd just learnt to drive in the Morris Traveller. Bursting with fresh psyche for all the new venues around me and many possible new lines. Chapman, Kershaw and Gaskins were my inspiration for the lakes problems! Some inspiration that! you can either look at it as a bunch of visionary Lancastrians with twinkle toes, or a mixture of gel, ponytails and bald/ponytail combos raving about this and that new rockfall/ escarpment which looks a bit like a boulder. I'd been using my new freedom to climb things like Eyes of Silence, Carlisle Slappers (i was 16 then, you can tell by the name, and was learning to drive on the waterworks road as it was private) And i wanted to climb every half decent problem in sight. The guide was all about climbing everything, nice clean consecutive ticks, aah the neatness.
I left a lot of my Scotland Lakes and Northumberland guides at home through Uni and they stayed dormant, the inky circles of desire slowly seeping into the pages to become a relic of past whimsies. Re-clambering through these routes and problems on the sofa, what were once my dreams now rasp against my current ideologies. Belittled by my older self. That is not to say that the routes are worse, they still look incredible. Just that Prana on Black Crag Borrowdale, Wheels of Fire on Bowderstone Crag, Crystal Vision Knapdale (http://www.ukclimbing.com/logbook/c.php?i=147046) and many more old guide book inspired dreams, no longer represent where I'm bursting to get to when the weathers good.
Something went horribly wrong over the last 7 years in terms of my aspirations, its not like i achieved and surpassed them, i simply bypassed many of them completely!
Carrock was another venue I last frequented aged 17, until last week. I remember doing punks life and briefly pretending i was somewhere exotic, Knight Rider with a massive flapper from a crystal (one of the straws that broke the carrocks back for me with this venue) Cave LH. My finest hour, repeating a Gaskins problem the day after he did it! aah joy, his chalk was on it and everything. I even had to tie a strap round my V10s to keep my heel on, i bet Gaskins didn't have to use a heel.
Shortly after this i fell in love with the county and Carrock seemed little more than a good place to rasp some skin off in a bogged out midge ridden talus field. In the last fortnight though i've grown curious about the old me, the one who went there and had fun. So whilst picking up some wood with Katie to make more holds we decided to swing by on an iffy afternoon for a trip down memory lane. In particular to look at Greg's sterling work on the back of Boardman's boulder and Hocks new one move power explosion, Super Yum Yum. The latter was unfortunately piss wrapped so that'll have to wait for another day.
Metronome (Greg's new 8A) was fortunately dry.
The stand to this was a funny problem of mine. I remember doing it whilst being really pissed off with myself for doing it. It was sharp (i had some right baby skin then). I only had one pad and my ankles kept disappearing in bouts of unfettered exploration down the holes in the horrible talus landing (i didn't know to patio landings like this then) There was a big pissing block looming in the way of the direct exit behind me and my left exit kept rasping more skin off. I wanted to leave it but i knew in theory there was a decent problem there, i just didn't know how to produce it. I eventually did the stand and then drove 3 miles of the drive home with the handbrake still on (only twigging when the burning smell caught me up on a hill) in the Morris (like i said i was learning to drive too) Fast forward 7 years and all is revealed. Greg Patio'd the landing sorting the exit and the ankle swallowing falls in one. Even opening up the true line, with great moves. Literally sorting the men from the boys. reclaiming the stand was bizarre, physical nostalgia. I set about the sit but with no print out guide i got a bit lost and started with the wrong limbs on all the right holds. The other main difference nowadays was that it felt like my skin was indifferent to its sharpness, and i can squeeze the crap out the holds. With my slightly easier sit sequence i managed it after snapping a bit of the crux LH undercling slightly on my first attempt. How things change with the arrow of time.
So the point of all this is that i've been consciously trying to imagine where i might be if life carries on this way and finding not just short term projects in the lakes but long term possibilities for people (not just me) too. As disillusionment in an area is not something i hope to enjoy until my more curmudgeonly years. Either that or i'll have to start traveling!
A quick (with the usual dodgy omissions) summary of the above for people who prefer to keep/peruse scorecards rather than guidebooks
8A
Metronome, 2nd go
poor quality vid (mostly iphone) of some random stuff from the last 10days here:
https://vimeo.com/41010131
On a side note if anyone is looking for a Morris Traveller my dad is selling one of ours for £1500ish
it looks a bit like this.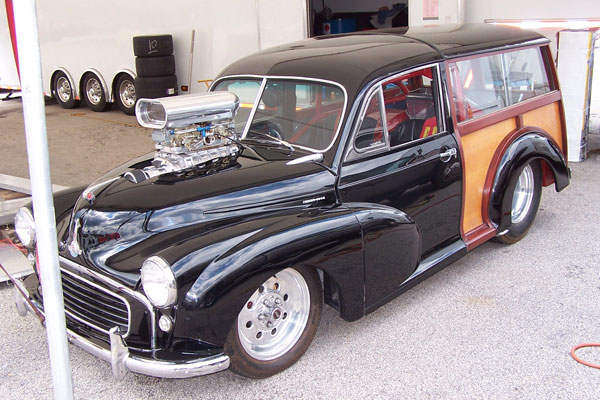 only without the v8, and 2 tone paint job, rally seats and roll cage.
Contributed by: Dan Varian